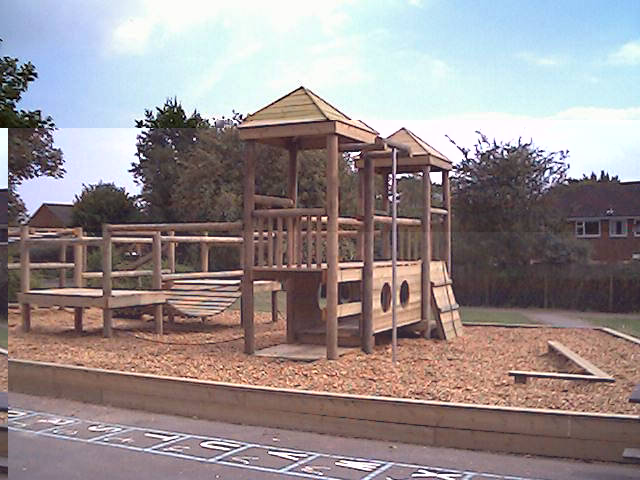 Summary of our point of view:
All play areas need the quality of the surface to be taken into consideration. For intensive use we find bark products the best natural surface and rubber is our preferred artificial surface. Grass and woodland floor are suitable for less intensive activities.
Bark and other Loose Impact Absorbing Surfaces (LIAS). Detailed information is available from our suppliers' web site www.melcourt.co.uk
Bark and Sand are the most common options. Sand has the advantage of not degrading in the same way as the wood products, but would normally need to be topped up as some will be carried away by the children. The main disadvantage with sand that we have observed in public play areas is that small children sometimes play in the sand in places where they are vulnerable to larger children playing. This can be by being in the fall areas generally or by heaping sand onto ramps or the bottom of slides, which more or less guarantees conflict. The annual bark top up does require a specific budget but does tend to refresh the whole area as well as keeping the surface clean and effective.
We normally recommend above ground bark pits. They define the play area better and tend to lead to bikes, pushchairs and other potential obstacles being left outside the fall area of the climbing equipment. It is possible to have the wall higher than it needs to be for the bark, which reduces the amount kicked out of the pit. The above ground bark walls seem to be less of a trip hazard than a below ground bark pit, as the children see it more easily. Ramps can be used to provide access for the less agile to an above ground bark pit.
Rubber is our preferred artificial safer surface. Both tiles and wet pour rubber seem to give consistent Critical Fall Height performance over a long life and they tend to be less slippery in wet weather than some alternatives. Black is the cheapest colour as the rubber granules come form recycled truck tyres. The surfaces can be made more interesting by the addition of colour graphics or fleck without going to the cost of a full colour surface. Small areas of rubber are also used in bark pits to reduce the maintenance requirement, for example at the bottom of slides and fireman's poles and under swings. We have also used rubber inside bark pits as part of plan for improving access for disabled users. The requirements for the "disabled" vary greatly. It is normally necessary to consider the requirements of specific groups of users to provide them with suitable access and activities when they have accessed an area. Some small schools and village playgrounds have no known demand for disabled access and it may not be practical to provide for all eventualities. An earmarked budget that can be used to quickly meet any need that does arise may be a good idea. Apart from the costs there are usually some safety compromises as providing access for the less able can cause safety issues for other children. This is another reason why we would not automatically make every area accessible to wheel chairs (for example). Where we have aimed to provide for less able children the aim as been for maximum integration of all the children.